Reasons To Visit Northeast India
Culture

There are over 200 tribes with over 220 languages, in the entire beautiful Northeast India. Each tribe has its own attire, practices, architecture as seen in their huts, cuisine, drinks and rituals. Due to tough terrain, political upheaval and insurgencies, and general apathy, it remains virtually neglected until today. As a result, it is still not the most popular tourist attraction in the country, and foreigners are restricted in many locations. With political outreach and the necessity for travelers to search new destinations, the picture is progressively shifting. Northeast India is the most diverse region in the country as a whole. Each ethnicity, including the Lepchas, Bhutias, Ahoms, Bodos, Naga, Maiti, Kuki, and Mishim, is distinct and has its own rich history and culture forming one of the biggest reasons to visit northeast India. Buddhism, Islam (Assam has the famed Pao Mecca mosque from 1657, which is said to have a quarter of the holiness of Mecca itself), Christianity, and various types of Hinduism (Tantricism, Shaktism, Shaivism, and Vaishnavism) all coexist.
Cuisine Of Northeast India

Northeast Indian cuisine is a unique mix of delectable meals with regional variations and international influences. All of Northeast India's cuisines are nearly the same, with a non-vegetarian diet preference. Assam's main cuisine products are fish and rice. They usually serve 'Pithas' (cakes) to accompany their heavy meals, which are produced in a variety of fashions utilizing rice powder. Assamese people's traditional breakfast is chira with yogurt and jaggery. 'Maasor tenga', Assam's most popular meal, is made with tomatoes, kaji lime, thekera, and other vegetables. Chicken, pork, and eggs are also key components. Arunachal Pradesh's 'Apong' is a delightful alcoholic beverage. It's created using rice and millet and is quite nutritious. In Manipur, it is customary to serve food on banana leaves. Rice, pork, and fish make up the majority of the recipes. The typical food is 'Kabok,' which is rice and vegetable-based. Pork and beef is a delicacy in Meghalaya. Their favourite cuisine is 'Jadoh,' a pork dish. On special occasions, rice is also used to make alcoholic beverages. The native brew, known as 'Kyat,' is popular among the locals. The Mizos' kitchens also specialise in rice and pork dishes. Almost all of the dishes served here are nutrient-dense. The preferred beverage is 'zu' (tea).Momos, Gya Thukpa, Ningro with Churpi, Gundruk, Phagshapa, and Sael Roti are among Sikkim's traditional dishes. The Bhutia tribes consume beef. In Sikkim, the native beer is known as 'Tchang.' Tripura's population is almost entirely non-vegetarian. Naga cuisine consists primarily of fish, pork, and rice. Smoking, drying, or fermenting the fish or meat produces the delights.
Want To Know More Reasons To Visit Northeast India
Wildlife

Numerous national parks and wildlife sanctuaries in the Northeast are home to unusual kinds of flora and fauna. Namdapha National Park in Arunachal Pradesh is India's third national park known for its endemic Namdapha flying squirrel. Another rare and endangered natural animal found in Kaziranga, Assam, is the one-horned rhino. The world's only floating national park, Keibul Lamjao National Park in Manipur, is home to the world's sole natural habitat of the dancing deer, Sangai. The Shirui lily, a gorgeous terrestrial flower found nowhere else in the world, may be found in Manipur's Sirohi National Park. The UNESCO Natural World Heritage Site of Manas National Park in Assam includes a proposed tiger and elephant reserve. There are approximately 30 national parks and wildlife sanctuaries in the Northeast Indian region.
Festivals and Fairs

For decades, the Northeast has hosted a number of fairs and festivals. Bihu Festival, Nongkrem Dance Festival, Chapchar Kut, Wangala Festival, Kang China, and other traditional festivals are held annually. Bihu is an important and iconic for the Assamese. In Assam, the most popular festival is Bohag Bihu. This holiday is celebrated with zest and excitement in many sections of the region. The Khasi tribe of the region celebrates the harvest with the Nongkrem dance festival. Chapchar puja is a Mizoram celebration that takes place in March. Every year, a number of music events such as the NH 7 Weekender, Ziro Festival, and others are held. The Hornbill Festival is a celebration held every year from 1 to 10 December, in Nagaland which is also called as "Festivals of Festivals". Every year, Assam hosts the Northeast Book Fair. Film festivals are also a big feature of the fairs and festivals in the Northeast. Every year, the state of Sikkim hosts an international flower show.
Handicrafts

Assam is known for its ethnic communities' unique cultures. These communities participate in a wide range of crafts. Bamboo works, reed mats, terracotta art, brass ware, and pottery are among the state's handicrafts. The state of Meghalaya is noted for its diverse arts and crafts. The state is the country's apex centre for pineapple crafts, with the fibre from pineapple leaves used to make a variety of nets, bags, and purses. Arunachal Pradesh has a thriving craft heritage, with every tribe excelling at it. They manufacture a variety of items from of goat hair, ivory, boar tusks, agate beads, and other stones.The Mizo are noted for their proficiency in wickerwork and basketry. Bamboo baskets, utensils, caps, handcrafted furniture, and flower vases are made by traditional skilled artisans. Manipur is a melting pot of cultures and traditions. Black clay stone ceramics, bell metal bowls, cane and bamboo crafts, and mats made of bamboo are among Manipur's many colorful crafts. The Naga people make a variety of goods out of shells and beads, as well as bird wings and flowers. They are also recognized for their pottery, which is made entirely by hand without the use of a wheel. Tripura's artisans are proficient at producing high-quality handicrafts. The state's various ethnic groups excel at bamboo and cane work, producing bamboo baskets, fences, and furniture.
Land of Sunrise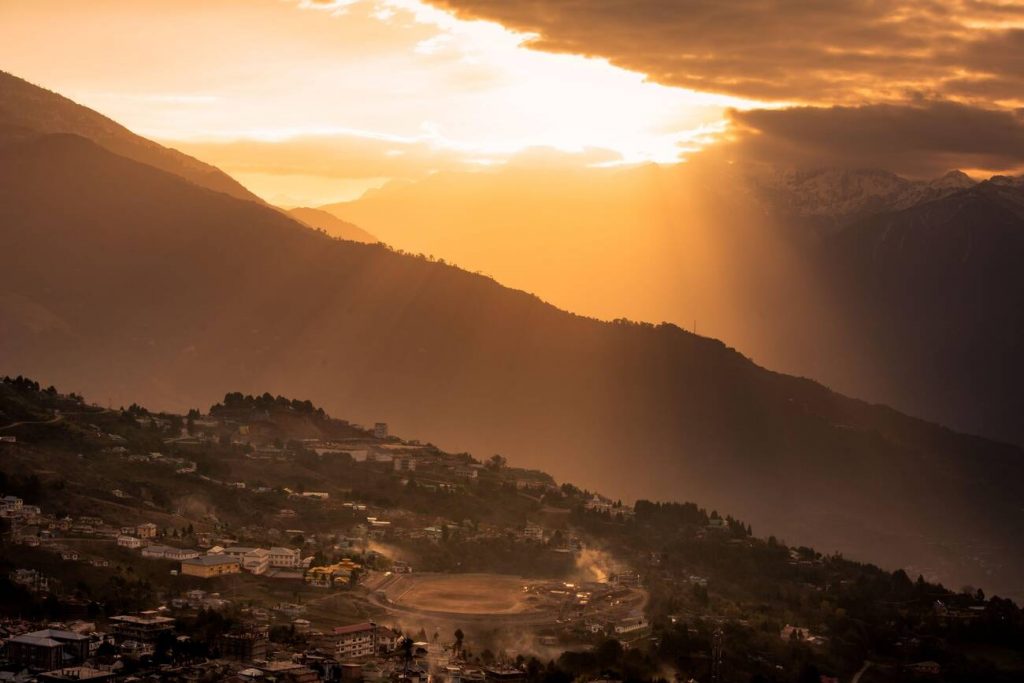 Arunachal Pradesh, which is the eastern most state of the country, experiences the first sunrise of the day. The whole North Eastern region lies in the easternmost stretch of India therefore it is undoubtedly the land of surprise. Contrary to west India North East experiences dawn as early as 4 am on summer mornings. Yes, the phrase "early to bed and early to rise" is best suited for this region. People in the rich hills generally sleep earlier and start waking up early in the mornings for their day to day work or chores.
Adventure

Northeast India offers some hard trekking trails with breathtaking views for the daring. In Arunachal Pradesh, the Bailey Trail Trek follows an old trading route that connects India, Tibet, and Myanmar. Many believe the Goechala Trek in West Sikkim to be the most similar to Nepal's famous trekking routes. Dzukou valley in Nagaland is the hidden paradise of northeast India. Moreover, Meghalaya has some spectacular waterfalls and natural pools to which you need to trek to get a look. Cave diving and exploration is one of the well known adventure sports in Meghalaya. Rock climbing, river rafting, zip lining, kayaking and mountain biking are some of the sports you should not miss when you are in the state.
Road trips

The Northeastern part of India, which is full of magnificent landscapes and breathtaking landscapes, is the ideal spot to visit if you want to experience the special beauty of the hills and mountains. The journey from Shillong to Cherrapunji is breathtakingly beautiful. The road offers beautiful views and some wonderfully refreshing weather as it winds through millennia-old trees. Stop along the road at the Mawkdok Valley's lovely bridge. The road to Mechuka runs north from Jorhat, the gateway to higher Assam, past jagged forested hills, huge meadows, and little hamlets. This is a road that converts a typical adventure trip into a fascinating cross-cultural encounter. From Tezpur to Tawang, the road passes through beautiful virgin woods and lush green valleys. The drive, while challenging, can be eased into by stopping in Bhalukpong, a beautiful valley village along the way. The stretch between Kalimpong in West Bengal and Zuluk in Sikkim is specifically created for adventure seekers. This tour is sure to make you fall in love with the region due to its jaw-dropping scenery and miles of winding roads. Create memories, one road trip at a time.
Mysteries

The obscure land of Northeast also has mysterious aspects to look into. Even though Naga headhunting ceased in the 1940s, many elders of the Konyak tribe have tattooed faces, indicating that they are from the headhunting clans. Young men were honored with a prestigious face tattoo for killing and cutting an enemy's head, which was considered a rite of passage. Mayong is a small town on the bank of the Brahmaputra River in the Morigaon district of Assam, India, where solitude and mystery abound. Due to its rich history, this normally quite region has attracted a lot of tourist attention over the years and is now known as the "Land of Black Magic." Jatinga, a small tribal community and Assam's only hill station, is famous for strange bird suicides that occur during specific times of the year. Scientists and ornithologists have been attempting to unravel the puzzle of why birds behave in such a peculiar way during those weeks in Jatinga.
Spirituality

The Northeastern region's religious demographics are diverse. This location is a spiritual haven for visitors, with temples, monasteries, churches, and mosques. The Seven Sisters region is known as a holy land, with gorgeous shrines of all religions and faiths adorning every corner.There are various temples and places of worship in Assam. A traveler will find a number of churches, monasteries, and mosques that serve as places of religious worship for people of all faiths in addition to the four Shakti Peethas. In Assam, the Kamakhya Devi Temple is one of the most well-known Hindu temples in north-east India.The Unakoti Hill Temple in Tripura is regarded as one of India's seven wonders. The Tawang Monastery is India's largest Buddhist monastery. The monastery's library includes some of the most valuable Buddhist scriptures, making it one of Arunachal Pradesh's most popular tourist destinations. Another Buddha shrine in the vicinity is the Buddha Temple in Shillong, which attracts a large number of worshipers. The Madina mosque in Meghalaya is a remarkable architectural marvel in India because of its dazzling and gleaming glass structure. The Sumi Baptist Church in Nagaland is Asia's largest Baptist congregation. The church's auditorium, which seats 8,500 people and is located 1,864 metres above sea level, has a seating capacity of 8,500 people. All Saints Church in Meghalaya, which was erected under the British Raj, is another well-known church.
Haute Couture
Northeast India, often known as the Seven Sister States of India, is known for its ties to ancient Indian culture and history. Each state in this region has its own traditional costume, which reflects the beauty of the culture through designs and colours tailored to the socioeconomic position of the wearer. The Mekhela Chador is Assamese women's traditional attire. Moreover, sualkuchi, a village in Assam is know as Manchester of Northeast India as the raw silks like muga, eri etc are weaved in a high amount and even exported to other countries. Women of all ages, save children, wear it. A long length of material is draped from the waist downwards, then folded into pleats and tucked in this two-piece garment. A dhoti or loin cloth is worn around the waist and up to the ankles by men, with a chadar on top. Nagaland's traditional garment is called Li. There are many patterns and styles in this style of clothing, notably embroidered ones. They wear a phanek, which is equivalent to a low skirt, below the waist. The most prevalent upperwear is mechala. The Khasi are also known as Jainse or Dhara people. Women wear this outfit, which is combined with heavy silver accessories. Mizoram's traditional attire is distinct from those of other states. They're dressed in a full-sleeved shirt and a skirt with vertical embroidery. This is how people dress up for the holidays in this part of the world. Men wear loose-fitting slacks and a leather belt.
Music

Northeast India is home to some of the country's top musicians. However, the most of them are underappreciated. The majority of people in the region are inspired by Western music in particular. Shillong, Meghalaya's main city, is also renowned as India's Rock Music Capital. Lou Majaw, a legendary musician, and Soulmate, one of India's best blues bands, are both from Meghalaya. Assam has also produced finest artists like Zubeen Garg and Papon, not to forget the legendary Dr Bhupen Hazarika. You should attend the Ziro Festival of Music in Arunachal Pradesh, which is a highly sought-after musical fixture in the country, if you wish to enjoy the wonderful music originating from north-east India. Hip hop culture has also bloomed in the region in the recent years with many good rap artists doing their best.
Humans of Northeast

Despite being just as diverse as the rest of India, much of the Northeast is a far cry from "stereotypical" India. Aside from Assam, the places will mostly give Southeast Asian feels to you. Faces are larger and fairer, with eye features that harken back to Burmese or Mongolian ancestors. Time slows down, and the pace of life on the streets slows down as well. There is a myth that people of Northeast are somewhat dangerous. This is thought maybe because of their looks but you won't find people like this region anywhere else. People of Northeast are the most beautiful, kindhearted, educated and welcoming in our country. Perhaps most crucially, people appear to grasp that blaring your horn does not speed up traffic. It's time to pack your bags and take a train to the Northeast whether you're looking for a break from the rest of India or simply want to appreciate how different our country is!
"Travel Northeast India "